Thailand is the perfect destination for the traditional two/three weeks holiday. Your arrival point will always be Bangkok, where 7 millions inhabitants live.
Don't be depressed by the first impact with the cahotic traffic, the pollution and the hot humid temperatures of the summertime. Bangkok can be a wonderful city if you don't give up on the first day of your visit. It is necessary to stay in Bangkok for at least four days to get a good glimpse of the city and visit its most important monuments: the ancient Royal City and the neoclassic Grand Palace; the Wat Phra Keo, the royal chapel shining with golden mosaics which guards the Emerald Buddha Statue; the Wat Po, the most ancient monastery of the city; Sanam Luang, the huge square where the National Musuem and the National Art Gallery, sanctuaries of the Thai culture, are located; the Chao Phraya River, the long river crowded with ferries and boats loaded with goods. On its bank, you can see the Wat Arun, the sumptuous Temple of Dawn.

The Grand Palace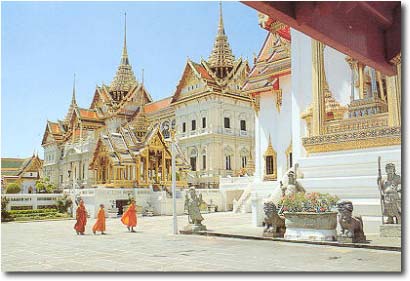 After getting to know Bangkok, you can go north to Chiang Mai, the starting point for a visit to the farthest regions on the heights at the border with Myanmar, where many ethnical minorities of Myanmar and Chinese origin live and where you can do the best shopping at the Night Market, open all night. Last haltingplace in the North is Chiang Rai, in the Golden Triangle, at the borders of Myanmar, Laos and Thailand.
After the intense and tiring visits of the capital and the north, it is nice to spend a period of rest on the beach. If you are travelling during winter, the best climate is on the western coast, as in the well-known island of Phuket, or the very small Pee Pee island, Krabi, or the still intact paradise of Similan islands. If it is summer, better choose the eastern coast and its islands, such as Koh Samui, Koh Phangan, Koh Tao.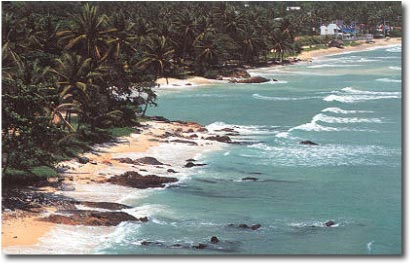 Phuket