My friend Net, proud to be Thai, intruduces briefly his city for us.
The places that you cannot miss
The places that people cannot miss when visiting Thailand are the Temples. Many people come to Thailand only because of the Temples. You can see the beauty of the Temples everywhere in Thailand. But many of the most beautiful temples are locate here in Bangkok. There are nine main temples, which were created by the order of the nine Chakri kings. The most beautiful of these nine temples is Ben-cha-ma-bor-pit, which was created by the order of King Rama 5th. It is located in the middle of Bangkok.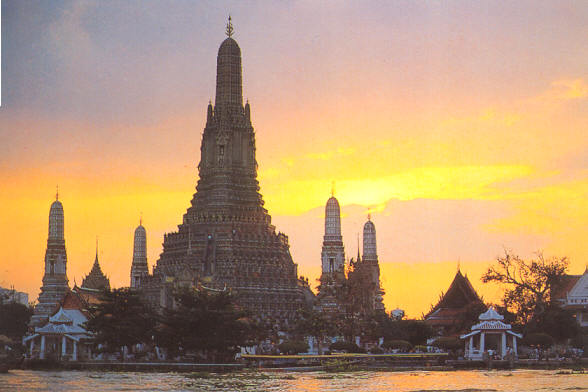 The Temple of Dawn
General overview
People always think that there are high pollution, traffic jams and many bad things about Bangkok. But donít worry about these facts too much, you have to think and dream about many more good things in Bangkok that you will find when you visit here.

Another important fact about Bangkok, is about the differences between people. You will see some people driving a Jaguar, a Mercedes or even a Rolls Royce and you will also see some people begging for only a coin for their life. This is an ordinary thing in Bangkok.
Back to the big problem in Bangkok, the traffic jam. It will be a small problem soon after the birth of the sky train. The sky train, which was opened for the first time on December the 5th 1999, the kingís 72nd birthday, helps the problem about traffic jams a lot. Both routes of the sky train cover nearly all the jammed roads. Later the underground will be a powerful allied with the sky train to help the traffic problems. You can count on them.