The coasts of Thailand are famous for their white beaches with a lush vegetation and high palms, crystal-clear water and sea depths rich with fish.
In the Gulf of Siam, on the east, besides the internationally well-known Pattaya beach, you can find the Marine Park of Trat with the islands of Koh Chang. Moving towards south, in front of Surat Thani, you can see Koh Samui, the incredibly green island with 10 millions palms.

Koh Samui
Other marine paradises are on the west, in the Andaman Sea. The Similan, nine desert islands are surrounded by groups of rocks in very bizarre shapes, covered by the luxuriant and impenetrable vegetation of the pluvial forrest.
Phuket, the largest island of the Country, with its tourist capacity and its numerous beaches, has become one of the first-choice destinations of tourists from all over the world. Many snorkeling schools with highly qualified teachers are available here. They provide all the necessary equipment and release the standard patent at the end of the 4/5-day courses.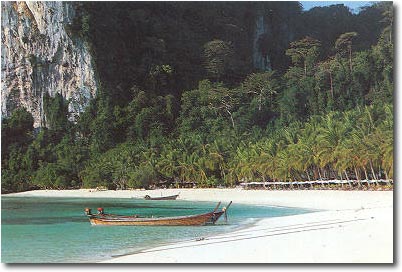 Phuket

Along the western coast, Phangnga looms up with its rocks followed by the huge beaches of Krabi and the Marine Park of the Turatao archipelago, close to the Malaysian border. This is where the Moken, also known as sea gypsies, build their mobile villages over precarious anchorages.